Experienced Preschool & Kindergarten TEACHERS
First School is home to a tight-knit community of preschool and kindergarten teachers in Dayton, Ohio. Get to know every member of our staff by reading a few words they've each prepared about themselves below.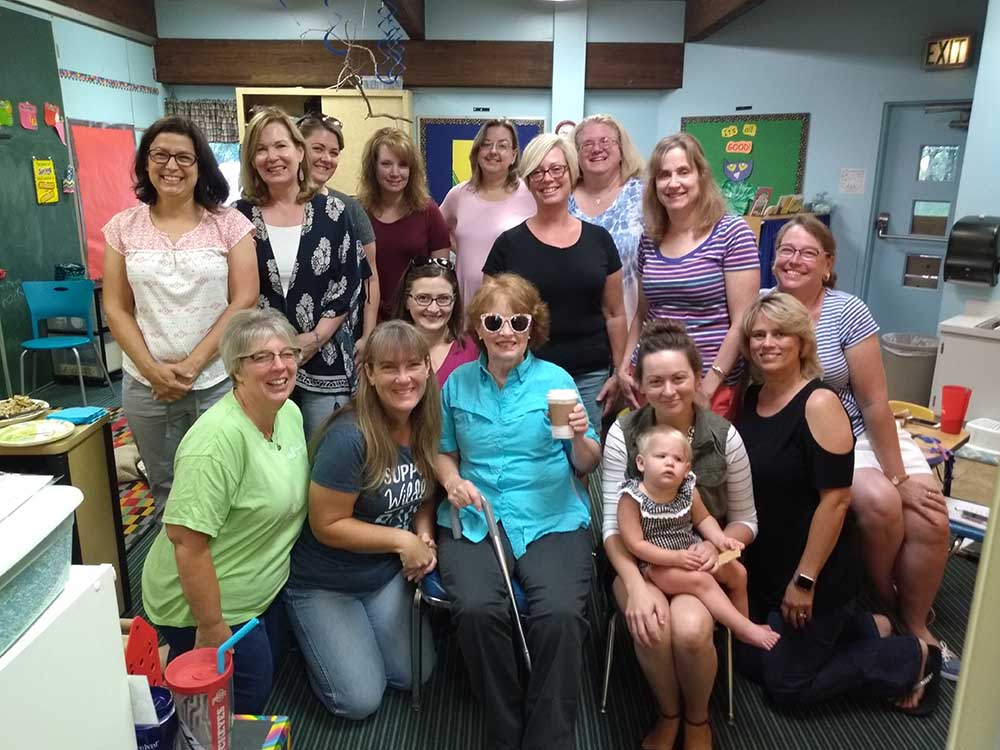 Julie Wright

Three-Year-Olds

Hello, my name is Julie Wright, and I am a graduate of Miami University in Oxford. I will be teaching a three-year-old class this year. I've enjoyed volunteering at the school throughout the years, and now I'm excited to have a class of my own. It's a special school and I'm thrilled to be a part of it.

My 3 children and husband also attended First School. My oldest son just turned 20 and is a sophomore at Miami, my middle son is 17 and a senior, and my daughter is 12. We love to travel and especially enjoy going out west. I love to read and also enjoy scrap booking when I get the time. I enjoy a good cup of coffee, playing with my three chocolate labs, and spending time with my family. Thank you for letting me be a part of this special time in your child's life. I'm looking forward to a great year.

Tracey Kershner

Four-Year-Olds/Enrichment/STEM

Hi, I'm Tracey Kershner and I will be teaching four-year-olds and MWF afternoon enrichment, as well as various STEM classes throughout the year. I have loved working with young children for years, beginning way back in high school. I decided to make teaching my career and received a B.S. in Education from Ohio University. Before coming to First School, I taught for five years at Miami University Middletown's Lab School/Daycare, and then taught for two years for Head Start in Dayton.

I am married to Jeff, who works for DP&L, keeping their computers up and running. We have two children: Jake, who works in Columbus, and Erin, who is studying at Miami University to be a teacher. In my spare time I read voraciously, do a little gardening, and complete arts and crafts projects. We are animal people and are currently sharing our home with a couple of lap dogs named Willie and Rickie (who weigh 90 pounds), and a cat named Sammie. I'm looking forward to a great year!

Stacey Yarger

Director of Operations

Hi, my name is Stacey Yarger and I am the Director of Operations and Admissions at First School. I have a B.A. from Northwestern University and am originally from the Chicago area. I have lived in Dayton for 37 years; have been married to a native Daytonian for 37 years; and have three great daughters. My oldest daughter is 33 and lives in Northern California. My middle daughter is 30 and lives in Chicago with her husband and my grandson. My youngest is 24, lives in Northern California and is working and applying to Law School.

I have been a long-time volunteer in the Dayton area for many organizations: The Junior League of Dayton, the Dayton Ballet, Buckeye Trails Girls Scouts, and the Dayton Art Institute. I am also a past president of the Women's Board of Dayton Children's Medical Center. I am involved in the Kappa Alpha Theta Alumnae group in Dayton. My current position at First School (that I have held for 9 ½ years) is one of the most enjoyable opportunities I have experienced. It is a wonderful school and I am proud to be part of it.
SHAYNA SCHROEDER

Director of Curriculum/Four-Year-Olds

Hello, my name is Shayna Schroeder and this is my third year as Director of Curriculum, as well as one of the MWF morning four-year-old teachers. I am excited to be at First School this year and am looking forward to getting to know all of our families. My husband and our three boys live in Springboro and are involved in many activities with them, including baseball, Cub Scouts, and hockey. I have my B.S. in Elementary Education from Wright State University and have been a preschool director for many years in Springboro. In my spare time I enjoy cooking and doing craft projects. Please stop in and visit me in my office any time you are at the school!

Debbie Richardson

Hello, my name is Debbie Richardson and I have been working with preschoolers for 8 years now. I was first brought in to the world of preschool while helping at my son's school. As I was there a lot helping they asked me to sub and 8 years later I am still working with young children. This year I stepped out of the teaching role and into being an aid due to my own grad school schedule. While I so enjoyed teaching my own class, I also have found it interesting being an aid. Now I have more opportunities to get to know and interact with more children as I help in 4 classes. I also get to experience the different age ability levels as I have classes from 2-1/2 to 5-year old range. I also work with some of my former students who are older now and see how much they have progressed since my class.
I have been married for 16 years, and have 2 step sons, the oldest is a mechanical engineer and lives in Portland, Oregon and the youngest will be graduating this spring in computer engineering and already has a job offer. Yes, so proud of him. My husband and I have a 12-year-old son who plays soccer (on 2 teams now- lot of games this fall), plays in the advanced jazz band at his school and is a member of his schools Lego League team (last year they made it to the state championship). His also is in boy scouts and a 3rd degree level 2 black belt (student instructor) in Taekwondo. Like everyone I am very busy with kid stuff and my school work and enjoy watching college football and soccer (FC Cincinnati and Premier League) when I can make the time. We have a dog named Kylo and 2 guinea pigs, Rocket and Rascal who are 5.
SHELLY ZIELINSKI

Early Five-Year-Olds/Kindergarten

Hello, my name is Shelly Zielinski. This is my forth year teaching at First School. I am very happy to be a part of the First School family. I just love the way this school takes care of its families! I teach the Young Five's class in the morning and the Kindergarten class in the afternoon. I am a graduate of Miami University with a degree in Elementary Education. I have been teaching in some capacity for over 30 years.

My husband and I make our home in Springboro, we have two grown children who also live in the Dayton area. Even though we are technically empty nesters, we currently host a high school student from China and recently added a new puppy to our home. It seems our empty nest isn't so empty!

My hope for my students and all the students in our school is that they have a positive and encouraging first school experience at First School!

Lori Hackathorne

Two-and-a-Half-Year-Olds

My name is Lori Hackathorne, and this is my eighth year working at First School. I studied early childhood education at The University of Cincinnati. I am excited to be teaching two-and-a-half-year-olds this year, and I look forward to the fun and exciting months ahead. My daughter Kailey attended First School, and is now a Senior at Miamisburg High School and dances with the South Dayton Dance Theatre.
Kate Miller

Four-Year-Olds

My name is Kate Miller and this is my first year at First School. I teach four-year-olds in the morning MWF. I am a graduate of Bowling Green State University, and when I am not teaching at First School, I spend most of my extra time on the football, soccer, lacrosse, and softball fields supporting my four children. I look forward to helping your child or children learn and grow this year!

Pat Forster

Learn with Me

I'm Pat Forster and I am teaching the Tuesday Learn with Me class this year. My husband and I, with our four daughters, moved from Canada 27 years ago and have been very happy to call Centerville home! I have taught the three-year-old classes in the past and have moved to the two-year-olds this year. I am loving this age group, and there is never a boring moment.

MICHELLE MEADOWS

Three-Year-Olds

My name is Michelle Meadows, and I teach three-year-olds on weekday mornings. I am excited to be teaching at First School, and I have my B.S. in Early Childhood Education from the University of Houston. My husband and I reside in Bellbrook with our two daughters. Some of my favorite pastimes include: a good book, baking, and spending the day with my family.
JEAN LARSON

Assistant

Hi, I'm Jean Larson, and this is my 10th year as an assistant at First School. My husband, Michael, and I have three sons and one crazy dog. I love kids and people, and always find them interesting. To relax, I love to read, scrapbook, exercise, and watch the Cubs!

Ann Merrill

My name is Ann Merrill, and I am officially retired after 24 years of teaching 4 year olds at First School. But First School is a hard place to leave so I happily returned as the dance teacher and later added teacher assistant. Being able to spend the day with your children is a highlight of each week.

I graduated from Wright State University with a B.S. in Sociology and later from Indiana University with a M.S. in Education. My professional career included working at several universities in varied capacities, six years
at WPAFB, 12 years as a scientific proofreader, teaching several forms of dance, and operating my own small landscape company. But by far the most joy came from teaching children.

For many years I have been a volunteer in the community and served on several local boards, including 22 years with The Boonshoft Museum of Discovery. During that time my attentions were focused on SunWatch archaeological park. As a certified master naturalist and a recently nationally certified interpretive guide, I have enjoyed a long-standing relationship with 5RiversMetropark leading public programs, school and scout groups, and conservation kids programs. My love of nature is nourished regularly with these activities and additionally by life in our home in the woods.

My husband of almost 42 years is retired from his position with Montgomery County but works part-time. We are parents of two children, both of whom graduated from First School. Our son, Griffin, is currently serving as a Major in the United States Army and is stationed in Afghanistan. He and his wife, Melissa, have three children, Ryan (10), Leah (7), and Hattie Mae (18 months). Hannah, our daughter, and her husband, David, live in Columbus. She is a Human Resources manager for Abercrombie & Fitch. They are parents of 11 month old, Cooper.

My favorite things are Starbucks tea, pizza, the color orange, spending time with family, hiking, ballet and tap, squash soup from Panera, boots, hats, being outdoors, and, of course, First School.

Kate Bailey

Hi there! I'm Kate Bailey and I will joyfully be assisting 3-5 year olds M-W-F mornings. I have always had a special place in my heart for children, as I have often been surrounded by them. I come from a large family of 6 and a slew of cousins, both older and younger. It wasn't until I had a family of my own, that my love for little ones grew even more! Thus, three years prior to coming to First School, I provided in home care for infants, toddlers, and preschoolers.

I possess a Liberal Arts Associates Degree from Sinclair Community College, proving the Daytonian in me. I grew up chanting the Northmont fight song, though now I find comfort in hearing the Bellbrook marching band from my backyard. I have a significant other, Michael and an (almost) five year old son, Lochlan whom also attends FS. We enjoy all things outdoors, traveling to visit our beloved family and friends most weekends, and cheering on THE Ohio State Buckeyes in the fall! Also, when the busyness of life allows, I find much contentment in gardening, photography, and designing interior spaces.

Here's to being a part of such an excellent institution, I look forward to learning from your kiddos!
Gretchen Brocwell

I'm Gretchen Brocwell and this is my first year at First School. I'm very excited to teach the T/Th 3's /4's classes.

I have a BA in Psychology from Ohio Dominican University and a M.Ed./Community Counseling from Ohio University.

I have always loved working with children, starting with my first job after high school at a daycare center. I have worked with children and families in a variety of school and community settings throughout my career and have taught preschool for the past 8 years.

I live near Springboro with my husband, 12 year old son, and 3 dogs. In my spare time, I like to read, drink coffee, walk at local parks, and do volunteer work.

My goal is to help each child in our class develop a love of learning!

Melanie Garber

Mixed Three & Four-Year-Olds/Two-and-a-Half-Year Olds/Enrichment

Hi friends! I am Miss Melanie Garber and I am so grateful for the opportunity to nurture and celebrate children and their families at First School!

Prior to First School, I lead and designed many preschool and elementary classrooms, creative early intervention programs, and enrichment services (for children and adults) throughout Dayton, Cincinnati, and New York City; my biggest hope always being to advocate inclusion and promote arts integration by providing accessible, alternative resources for children and adults of all abilities.

I especially enjoy supporting development and enrichment through the musical and dramatic arts. With an additional career in musical theatre (both in New York and Cincinnati) as a performer, children's theatre director, and youth choreographer, I am always eager to share a song with friends and continuously strive to cultivate validating performances in children both in the classroom, on stage, and in their lives!

When I am not teaching, performing, or volunteering, my own young daughter and I enjoy dancing around the house, baking muffins, taking our two miniature Goldendoodles to the park, and planning roadtrips to New England!

Courtney Adam

Hello, my name is Courtney Adam. This is my second year as the Fun Room teacher at First School. Prior to working here, I was a stay at home mom to my two children. This will be my fourth year having a child attend First School. My son started here at age three and my daughter at 2 ½. (They are now 6 and 4 years old.) I loved this school so much, and now I am so happy to be able to call working here my job! My passion outside of working with kids is yoga. I teach adult and kids yoga classes at Ignite Yoga in Centerville. I can't wait to see what this year brings us, and I look forward to watching your children grow and learn!
Employment
First School encourages lifelong learning for students, families, and staff. It is a warm and joyful place to enrich the lives of young people. We are now accepting applications for part-time preschool teachers. Email resumes and cover letters to info@firstschooldayton.com today.