Experienced Preschool & Kindergarten TEACHERS
First School is home to a tight-knit community of preschool and kindergarten teachers in Dayton, Ohio. Get to know every member of our staff by reading a few words they've each prepared about themselves below.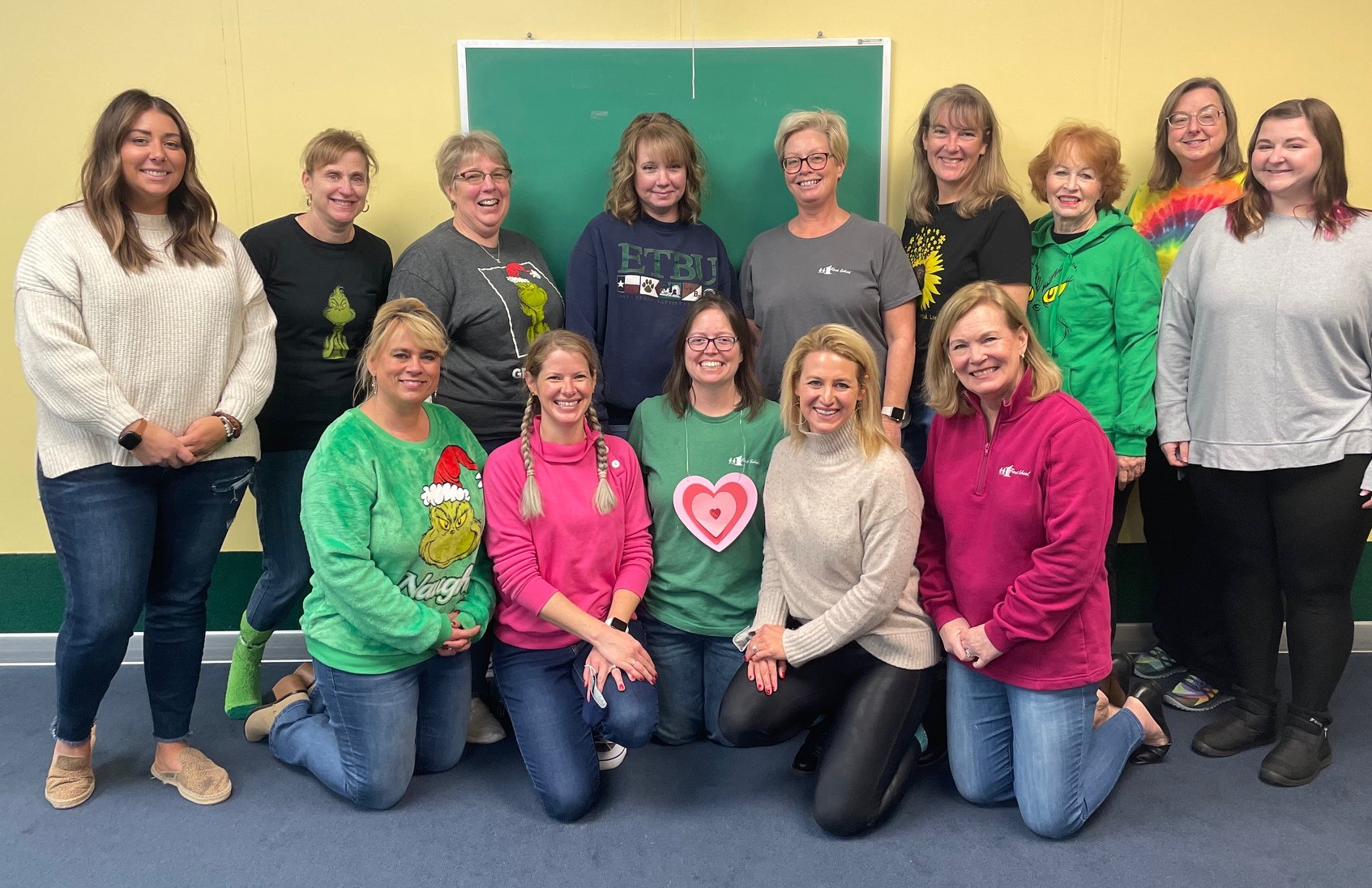 Julie Wright

Three-Year-Olds

Hello, my name is Julie Wright, and I am a graduate of Miami University in Oxford. I will be teaching a three-year-old class this year. I love watching the kids learn and grow throughout the year. Each class is a new adventure, and I'm thrilled to be here.

My three children and husband also attended First School. So we are a 100% First School Family! My oldest son just turned 27 and lives in Orlando, FL. My middle son is 24 and works in the Centerville area, and my daughter is 19 and is attending Cedarville University. We love to travel and especially enjoy going out west. I love to read and also enjoy scrapbooking when I get the time. I enjoy a good cup of coffee, playing with my four Labs, and spending time with my family. Thank you for letting me be a part of this special time in your child's life. I'm looking forward to a great year.

Tracey Kershner

MWF Aide/MWF Afternoon Enrichment

Hi, I'm Tracey Kershner, and I am an Aide and Afternoon Enrichment Teacher. I have loved working with children since high school. I decided to make my career in teaching and received my teaching degree from Ohio University. Before coming to First School, I taught at Miami University Middletown's preschool and also for Head Start in Dayton.

I live in Miamisburg, and I'm married to Jeff, who works for AES (formerly DP&L). We have two children – Jake, who lives with his wife Becca in Toledo, and Erin, who is married to Matt. We have two grandchildren, Lucy and Leo. We share our home with Tuxedo, our 80-lb lapdog. In my spare time, I read voraciously, garden, hike, and do a little crafting.

I'm looking forward to a great year!

Stacey Yarger

Director of Operations / Admissions

Hi, my name is Stacey Yarger, and I am the Director of Operations and Admissions at First School. I have a B.A. from Northwestern University and am originally from the Chicago area.

I have lived in Dayton for 42 years with my husband of 42 years. We have three grown daughters, two sons-in-law, and two grandsons. My oldest daughter is 37 and lives in Northern California with one of my grandsons and is an organic farmer, fashion designer, astrologer, and a clinical psychologist. My middle daughter is 34 and lives in the Chicago area with her husband and my other grandson. She works for McKinsey and Company, and my son-in-law works for Fanatics. My youngest daughter is 29 and is a grad student at Indiana University studying Information Science and Folklore Studies.

I have been a member of the First School team for 14 years, and it has been so rewarding for me professionally and personally. In my free time, I like to renovate houses and re-sell them. I also enjoy cooking and reading, and discovering new restaurants in the area.
SHAYNA SCHROEDER

Director of Curriculum/Four-Year-Olds

Hello, my name is Shayna Schroeder, and this is my tenth year as Director of Curriculum, as well as one of the MWF morning four-year-old teachers and afternoon MWF enrichment teachers. I am excited to be at First School this year and am looking forward to getting to know all of our families. I love to see the children's eyes light up when they are telling a story or relating a concept to something we are learning. The children make me smile every day.

My husband and our three boys live in Springboro and are involved in many activities with them, including High School hockey, golf and bowling. I have my B.S. in elementary education from Wright State University and was a preschool director for many years in Springboro. In my spare time, I enjoy cooking and doing craft projects and traveling. Please stop in and visit me in my office any time you are at school!

Kate Miller

Young 5s

My name is Kate Miller. This is my 8th year of teaching at First School. When I am not teaching, you can find me at a high school band concert, cheering at softball games, or having lunch with my amazing friends.

I have a degree in Early Childhood/Pre-K education from Bowling Green State University. On those days when I am home, I walk my three dogs or read. I look forward to helping your child learn and grow.

Lauren Bergstresser

Learn With Me

My name is Lauren Bergstresser and this is my first year teaching Learn With Me! I have been a First School parent for seven years and have attended Learn With Me with each of my three children, so I am excited to share such a wonderful class with new families.

I graduated from Miami University and worked in educational publishing for ten years before staying home fulltime. My husband works for the City of Kettering. Our two oldest children, Henry and Margaret, attend Kettering City Schools after going through the First School program. Our youngest, William, currently attends First School!

I love to read and bake, and our family loves being outside, trips to the beach, and the library!
Gina Wiesenegg

MWF AM 4's

Hi, my name is Gina Wiesenegg, and I teach 4 year olds MWF. I am very excited to be teaching at First School. I love how young children are so curious about the world and their eagerness to learn. I understand the importance of social and emotional development as well as the importance of allowing each child learn and grow at their own pace.

I'm a graduate of the University of Cincinnati ( Go Bearcats!) and I have a bachelor of science degree in Early Childhood Education. I have experience teaching preschool and kindergarten. I am originally from Cincinnati, Ohio and my husband is from Germany. My husband's Job has given us the opportunity to live in Houston, TX and Carmel, IN

I'm a buckeye at heart and luckily we were given the opportunity to move back to Ohio . We chose to settle in Centerville, Ohio. We absolutely love living here!! We have two children, Philipp and Sophia. Both children attend Weller Elementary School. We love to travel and especially enjoy visiting family and friends in Germany. I also enjoy spending time with family and friends locally, cooking, spending time outdoors, and activities with my kids.

Megan Lucente

T/TH and MWF AM 3s, Lunch Bunch, Social Media Director

Hi, my name is Megan Lucente. This is my third-year teaching at First School. A few years ago, I volunteered during AM carline and have never left! This year I also took on running First School's social media.

I was born and raised in Kentucky and attended the University of Kentucky for undergrad. I moved to Ohio when my husband, Dominic, graduated from UC and accepted a position in Springboro as a Civil Engineer. We now live in Centerville with our daughter, Lucy, who attended First School for four years. We recently rescued a Pit/Lab mix named Charles Barkley, Charlie, Chuck, Charles, etc. If I'm not at school, you can find me driving around a 7-year-old to every after-school activity as her unpaid Uber driver. I love the Cincinnati Bengals and Morgan Wallen. I also love to restore random furniture I find to keep or sell. Antiquing is another favorite thing to do if I can find the time!

JEAN LARSON

Assistant

Hi, I'm Jean Larson, and this is my 17th year as an assistant at First School. It is my 6th year doing Lunch bunch. My husband, Michael, and I have three sons and two sweet daughters-in-law. I love kids and people and always find them interesting. To relax, I love to read, scrapbook, exercise, and watch the Cubs and college football.
Ann Merrill

Teacher's Aide

My name is Ann Merrill, and I am officially retired after 24 years of teaching 4-year-olds at First School. But First School is a hard place to leave, so I happily returned as a teacher assistant. Being able to spend the day with your children is a highlight of each week.

I graduated from Wright State University with a B.S. in Sociology and later from Indiana University with an M.S. in Education. My professional career included working at several universities in varied capacities, six years at WPAFB, 12 years as a scientific proofreader, teaching several forms of dance, and operating my own small landscape company. But by far, the most joy came from teaching children. For many years, I have been a volunteer in the community and served on several local boards, including 22 years with The Boonshoft Museum of Discovery. During that time, my attention was focused on SunWatch's archaeological park. As a certified master naturalist and a nationally certified interpretive guide, I have enjoyed a long-standing relationship with FiveRiversMetroParks, leading public and school programs.

My husband of almost 47 years is retired from Montgomery County. We are parents of two children, both graduates of First School. Our son, Griffin, is currently serving as a Colonel in the United States Army. He and his wife, Melissa, have three children: Ryan (15), Leah (12), and Hattie Mae (6). Hannah, our daughter, and her husband, David, live in Columbus. She is a Human Resources manager for Abercrombie & Fitch. They are the parents of 5-year-old Cooper and 2-year-old Poppy Jane. My favorite things are Starbucks tea, pizza, the color orange, spending time with family, hiking, ballet and tap, squash soup from Panera, boots, hats, being outdoors, and, of course, First School.

Michelle Meadows

M-F AM 4's

Hello! My name is Michelle Meadows, and this is my 8th year teaching at First School, and I love it! I am teaching four-year-olds Monday through Friday. I'm very excited to get to know you this year.

My husband and I have two daughters, and we live in Bellbrook. We are involved in many things, including lacrosse, volleyball, theater, and running. My family and I love to play board games. We have two dogs that we love to spoil.

I have a Bachelor of Science in Early Childhood Education from the University of Houston. I enjoy cooking, doing crafts, working in my yard, and running.

Angu Balraj

MWF AM 3's
Nicole James

MWF AM Teachers Aide

Melanie Spitler

Fun Room – T/W

My name is Melanie Spitler. This is my first year teaching and I'm very excited to be at First School.
I'm looking forward to playing with your kids in the Fun Room on Tuesdays and Wednesdays this year.
We'll be working on gross motor skills, exercising, playing games and just having fun.

Both my girls spent 3 years at First School. Lilly (8) is now in 2nd Grade at Cline Elementary in Centerville and Heidi (5) is currently in Mrs. Millers Young 5's class.

I was born and raised in Konstanz, Germany. I first came to Dayton in 2003 as an AuPair. That's when I first got to know First School because my host kids were going there. That's also when I met my husband and I moved to Centerville in 2009.
We all look forward to visiting my family in Germany every summer. We enjoy swimming, hiking, bike riding, cooking and baking and family game nights.
Employment
First School encourages lifelong learning for students, families, and staff. It is a warm and joyful place to enrich the lives of young people. We are now accepting applications for part-time preschool teachers. Email resumes and cover letters to info@firstschooldayton.com today.